Ok, I like doing this post because I get to show that great USA made NAPA zerk joint that cracked in 1/2 after 18k miles on a 350-300 336 vette. No hard abuse and it cracked shifting into 3rd gear at 3,000 rpm on the highway!
This is a pre-chinese junk part as well.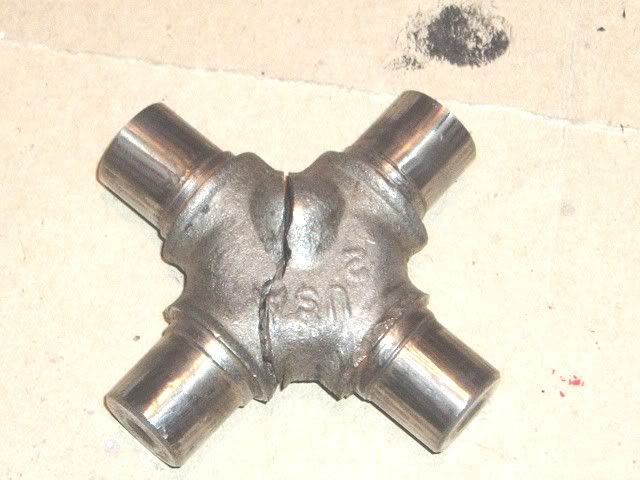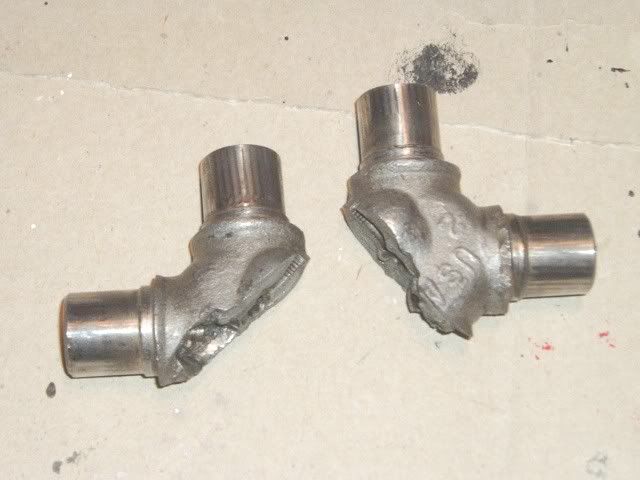 These are all I install on my vettes now. Spicer solids. I had a set of TRW zerks on my 72 for 800 miles and tossed them out and put these on.
RIP- here is the tool for the flange. I tapped the 4 holes 3/8-16 and just bored the face so the flange sits flat.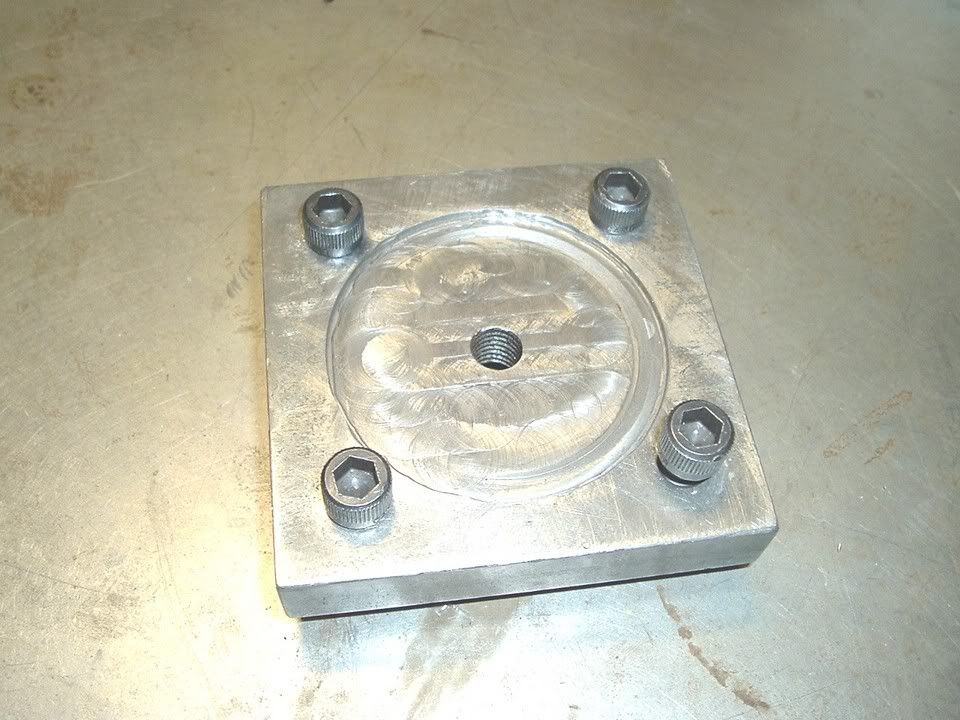 Here is the flange bolted to it. I cut the old joints out with a torch but you can use a cut off wheel as well. I don't use a bench vise or a press to remove them. Always use a bolt on tool before working on these. The flange will bend very easily if not. You can tell if a "hack" worked on them before- look at the tube near the yoke for flat spots. That means the tube was crushed in a vise, something your more experienced vette dealerships were fond of doing.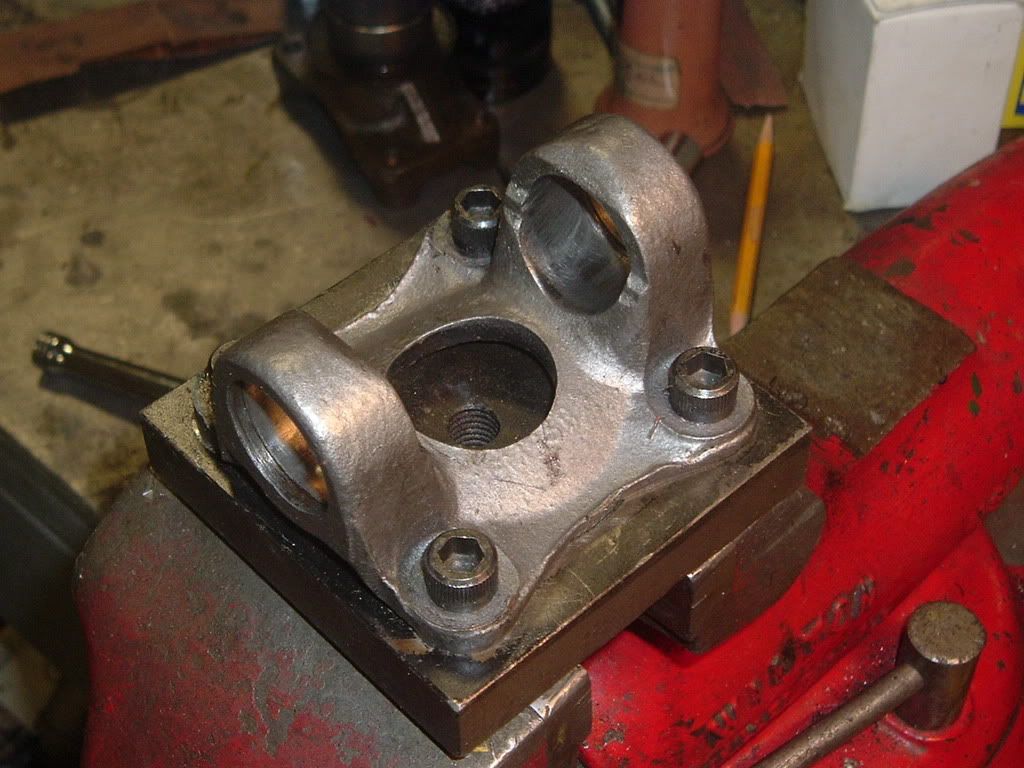 Once apart, I clean,blast, paint them with POR15 and a top coat.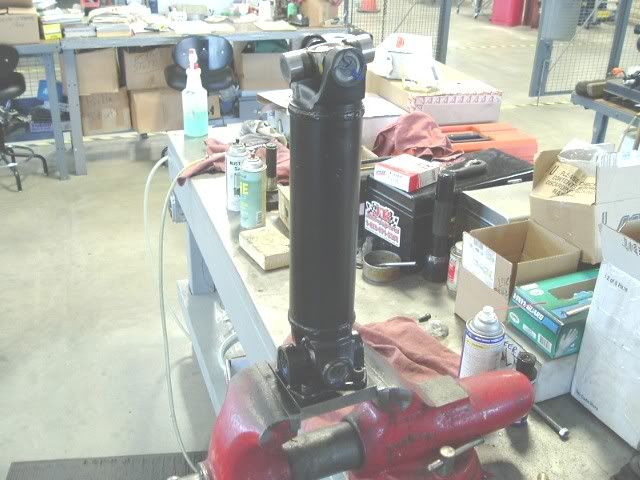 Clean up the bores but don't make them sloppy. I like a snug fit. I used to use never-sieze on the caps when installing but an old time driveline guy told me it retains heat and to just use a little oil. Ok, either way works for me.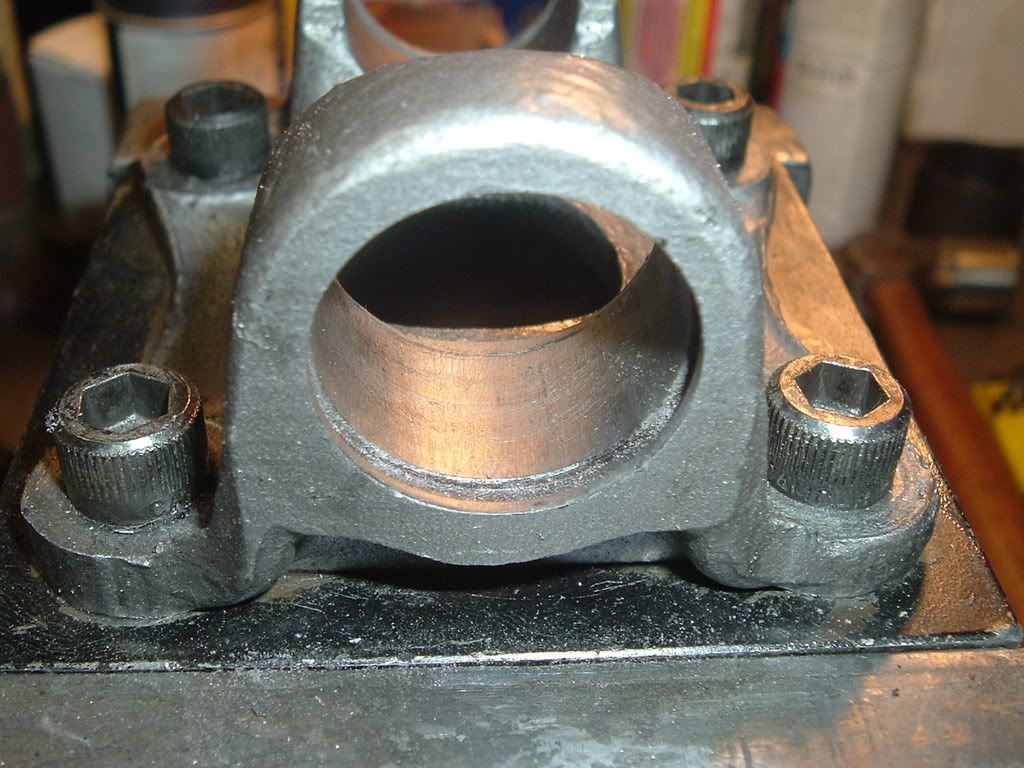 Here we have a Spicer and typical cheapo " as good as spicer" joint. You can decide what you want to use on your car.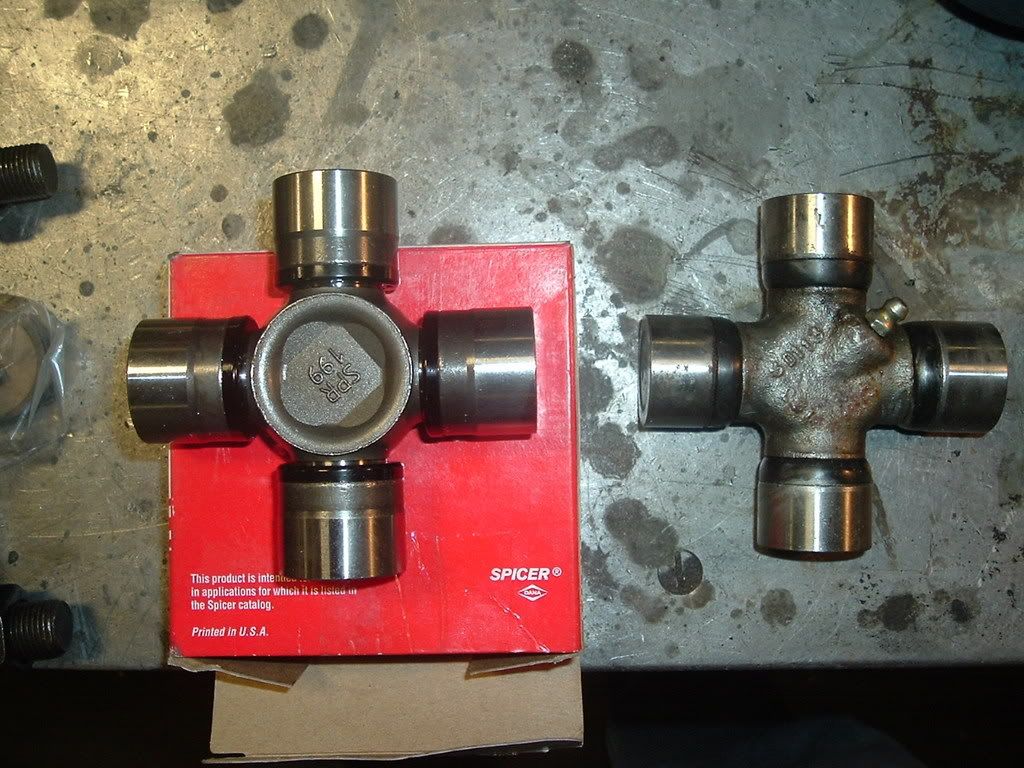 I use the vise to install the new joint as there should not be any load on them. Be sure you fit the caps so the needles don't fall in the cap. If it stops before the groove lines up- stop and see why.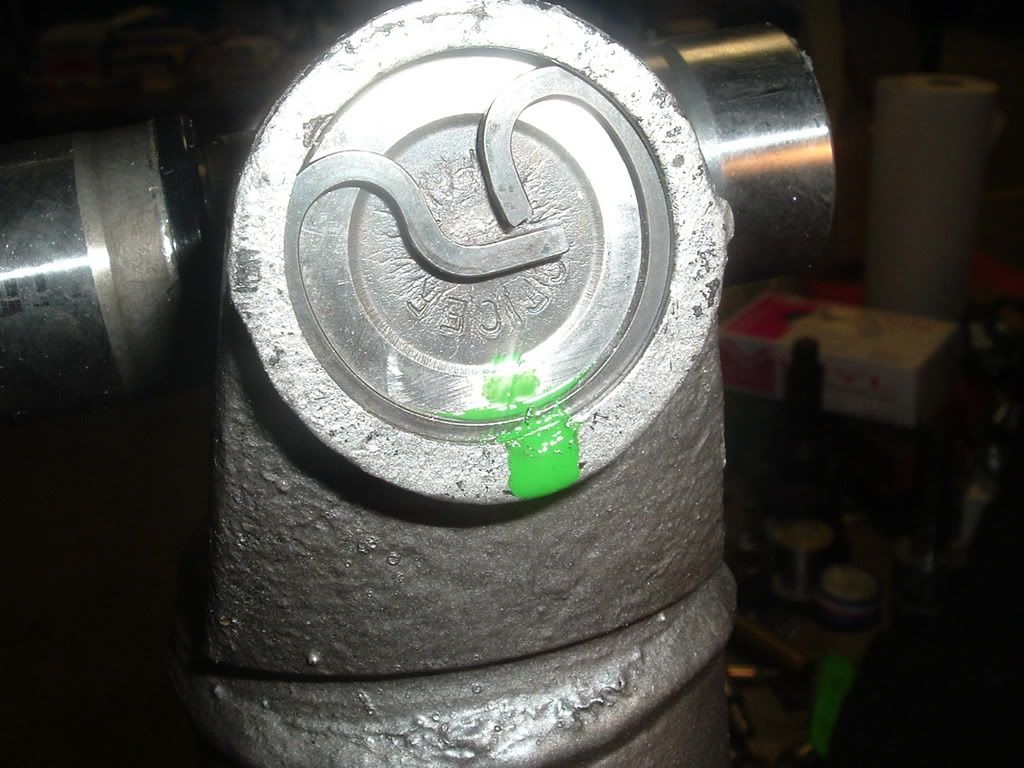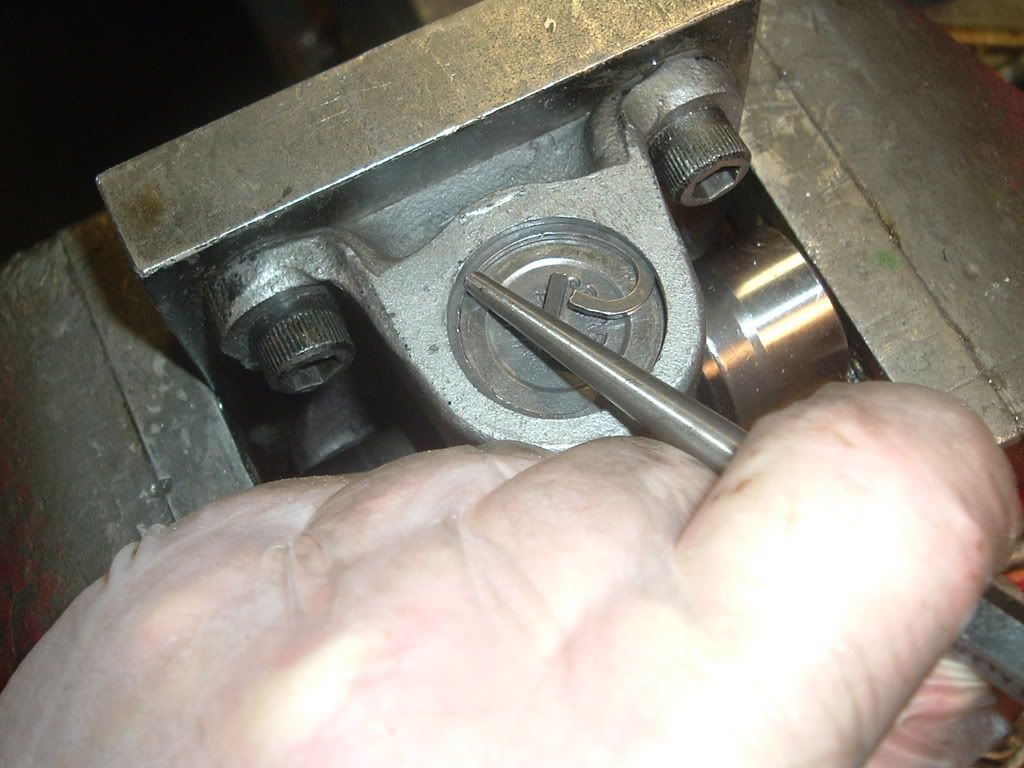 Ok if you do use spicers watch this black plastic pre-load cap. If you over press it then you'll break it. I've seen some vendors call these joints bad because of this but once you understand them you should be ok. If the joint comes out of the box with the rings loaded then hold the cap in a vise and pull/twist the cross off and it should not break. I do have extra rings I got from Spicer though- just in case.
NOTE: These have been replaced by white caps which are more pliable and won't break like the black ones.
If the flange is or was bent then these joints are not going to fit. They are a tight fit but will work.
Since they are larger I usually have to put a small radius in the yoke to fit them. Check yours before you start to assemble or you'll be cursing very quickly. The new flanges usually do not require a radius,and this one is a little too much but I used it to show what area to radius. Sometimes you only have to do one side too.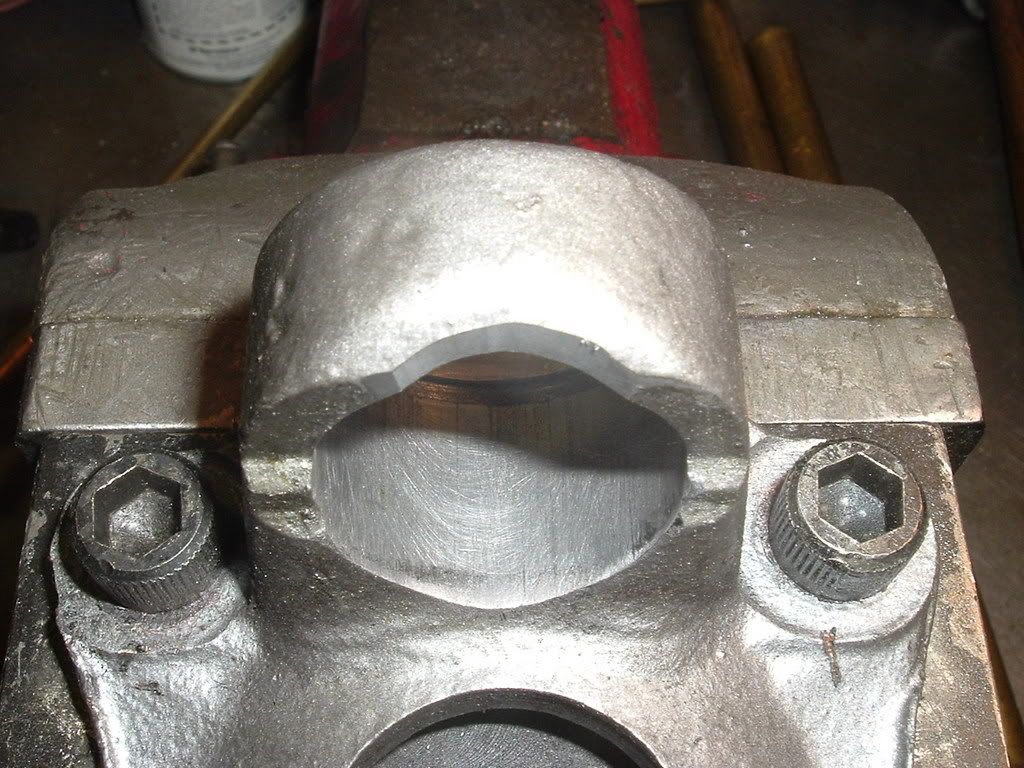 I like to witness mark them. Probably no good reason other then to see if the clip ever moves. I like the look- what can I say!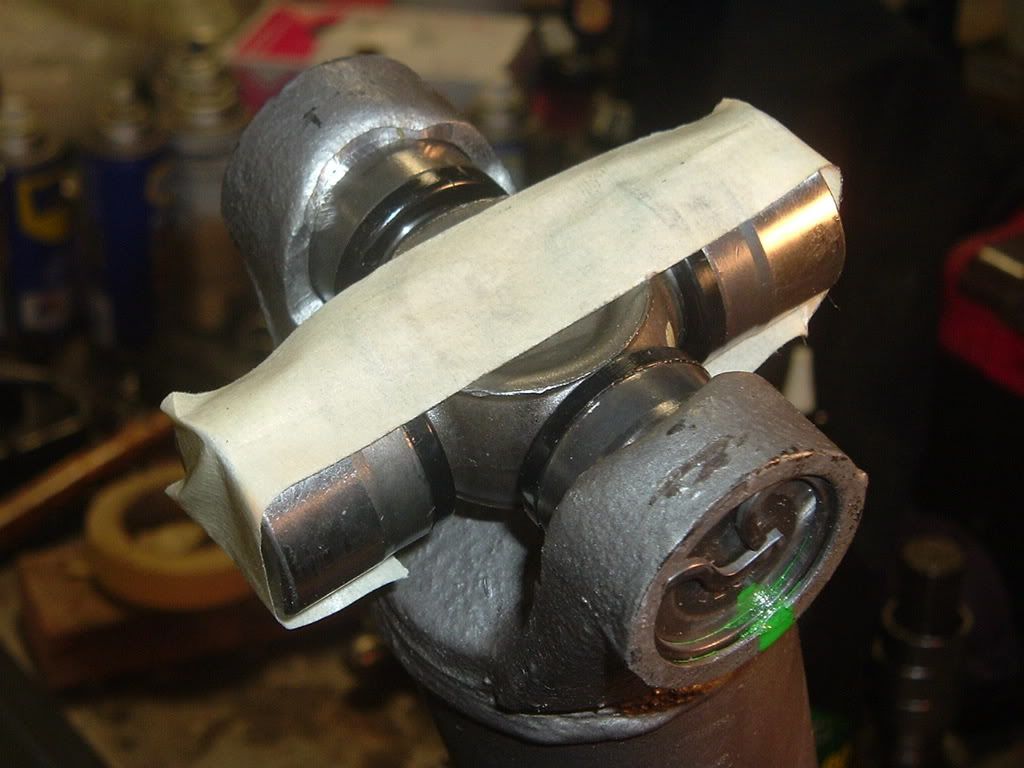 When done the shaft should move with no binding. If you loosen the 4 bolts and it binds then the flange is bent and cap failure may be a nasty result.
Tape the caps until you install them.
I use a very good quality French lock. Torque them to 75 ft/lbs
Replace all 4 at a time too. Good luck - you can do it.