Discussion Starter
·
#1
·
Some of you might be surprised to learn that twice, early in his GM career, Zora twice took vacation time to race Porsches at LeMans. Both times, Zora won his class. The first time he even told Porsche about a flaw in the suspension he had been fighting the entire race...then traveled, at their request, to Stuttgart to work on the needed changes that would eventually go into production Porsches. Zora, of course, never told his bosses that this was the reason he was late returning to Detroit. The point is, Zora was eminently qualified regarding the physics of a rear mounted engine in a sports car.
GM engineer Frank Winchell had been heavily involved with the Corvair project. Winchell insisted that a rear-engine, V-8 powered sports car could be balanced by using an aluminum engine and larger tires on the rear to compensate for the rear weight bias. Duntov adamantly disagreed. To resolve the dispute, the XP-819 was developed.
Winchell drew up a chassis that Zora and Dave McClellan poo pooed - but was built. Winchell asked Larry Shinoda to draw a body.
The XP-819 is powered by a GM marine engine and used a speed transaxle. The entire chassis, suspension, and steering were custom made components unique to this car.
As you can see from the chassis below, Winchell must have also been a fan of Colin Chapman: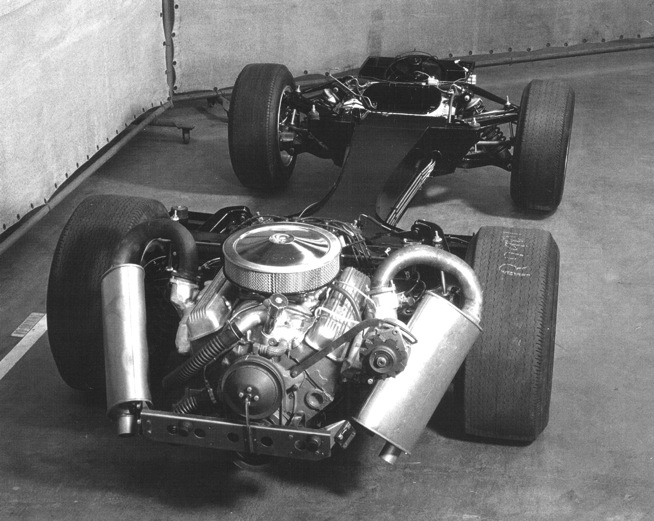 When Zora saw Shinoda's drawings, he asked Shinoda, " Where did you cheat? It doesn't look too bad." Shinoda supervised the fabrication of the prototype body. That's quite a bit of rear overhang ... understandably.