Discussion Starter
·
#1
·
Well, ive been holding off on writing about the 383 engine build-up because id like to get all the pictures together at one time, with the project complete but i cant wait anymore; these long summer days with nothing to do, waiting for a job are killing me - so ill start now, why not.
The saga all begins in about March, with us purchasing a donor 4 bolt block for $175 locally. After the engine was all stripped down we found out that one of the cylinder walls had a huge gouge in it, aside from that the block was prestine, the block had never been bored, bearings for the most part looked new, only one worn into copper. I dont want to clog up this post w/ my oversized pics, ill post a few at a time, but if you want to see them all theres a link:
http://s179.photobucket.com/albums/w293/63vette77/383%20engine%20buildup/
At this point it is now app. April 5th and we have sent the engine to the machine shop, paid in full for all the parts,and things are moving along. the parts are: aluminum heads w/ average flow ratings, scat "cast steel" stroker crank, forged I beam rods, forged flat top pistons, custom ground cam, full roller rockers/lifters, an intake like the edelbrock performer rpm, and all the other stuff.
We give the shop a few weeks and come in on a friday to check the progress, there is none, other than a pile of new shiney parts. We tell them we'll be back in 2 weeks to check out the progress
4-6 weeks later (app.May 11th) the block is still the same as we left it, and understandibly so. The story is that the shops co-owner had died of cancer, the other partner was in legal matters, on top of that the stripping machine, to clean the blocks was broken, and the company refused to repair it ( its a month old machine)
Well at May 18th some progress had began, the block had been cleaned and some machine work had been done.
On the 25th the sleeve for the cylinder with the gouge in it had been put in - for some reason the before pic. is HUGE, so this is the after pic.- taken on the 1st, you can barely see the sleeve (center cylinder in pic).
AFTER: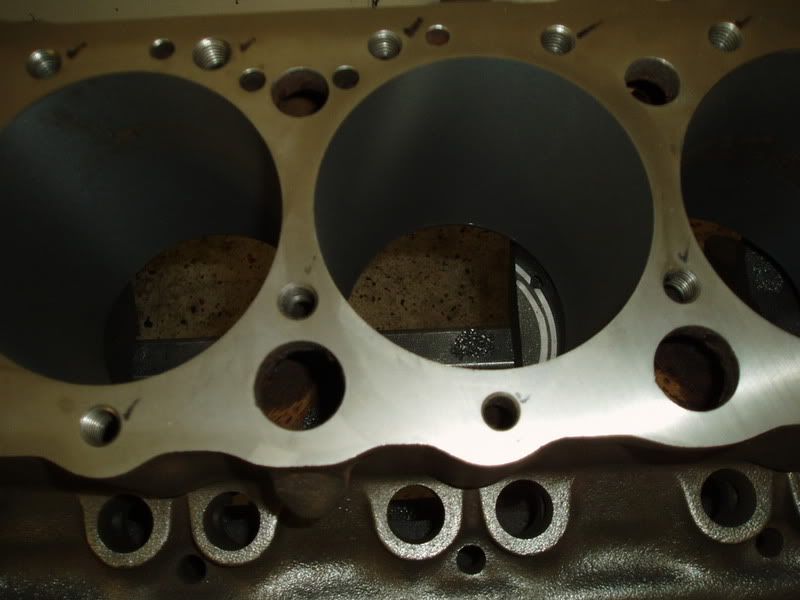 On June 1st the block is completely machined, its all decked, bored, etc, all thats left is the final hone job for the cylinder walls.
We are going in on friday to see the progress, everything is supposed to be balanced, and ready to go into the block. Ill post the pictures when we go in friday, and as there is visible progress along the way, so i hope you stay tuned :thumbsup: