hi all. I got my first (and last) corvette last week and am pretty excited. It is a '76 that once belonged to Bob Wallace at 'vette magazine many years ago as a project car. I think it was probably one of the first LS1 swaps at the time. The car got a crate LS1 and 4L60E and Bowtie Overdrives did a lot of the work on making it fit, but the project was never finished and the car was passed around until it wound up at Custom Image Corvettes and eventually with me.
How this all came about was really strange story. I will TRY to keep it short.. but here goes.
About a year ago my wife said we should get a "fun" car in a couple of years. I have always admired the lines of C3 'Vettes since I was a kid, but did not (and compared to most of you.. still don't) know that much about them so I hit the internet each day reading all I could. I became interested in a LS swap so I hit the forums to gather info. I noticed that this one guy kept answering everyone's questions and really knew this stuff. He even had parts. I wished I could find somebody like that in Iowa. Yea, right. Iowa. Then one day I clicked on that guy's profile and found that he not only lived in iowa, but he lived around the corner from me. "it's a small world after all...."
So I walked over to his house and introduced myself. There was Kaos in his garage. Man, I was blown away by that car. I had seen it on the internet all the time and even mailed Chris McDonald to tell him how much I loved that thing. Then a few weeks later when I figured out who Josh was I realized that exact car was around the corner from me. "It's a small, small world"
Josh and I talked and I was impressed with not only his knowledge of cars, but how happy he was to stop what he was doing and talk to me. We kept in touch and then a few months ago I started my "internship" with him. I went over there with the intention of sweeping floors and fetching wrenches, but Josh is a great teacher and has given me years of insight in a few short months. It started with "fiberglass 101" and has continued from there.
Somewhere along the line I got sucked up by all of the fun and wound up buying the '76.
We are working on getting it on the road and will be able to hit it a lot harder soon. Right now priority 1 is to get Kaos back to Rob, and getting flares out to folks.
*****
On to the build so far...
I got the vacuum parts stripped off of the lights. Being from Iowa I can't believe how little rust there is on this car! We will do an electric conversion on the lights down the road.
frontstripped
by
brent hagist
, on Flickr
Josh and Adam got the wires all hooked back up and I replaced some of the sensors. After working through the night, it was almost ready to run, but the sun was about to rise and I had to rush out and go to work. I stopped by after work and got to start it up. There are no seats or carpet inside the car, so sitting on the floor with open headers was a pretty rumbly experience for me.:laughing: Here's video of my first running of the LS1: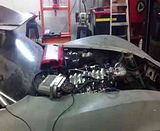 I brought home the interior parts and cleaned them up. They were pretty ugly looking when I got them there, but once 10 years of dirt was washed off they looked pretty good.
88470aa8
by
brent hagist
, on Flickr
Josh is working on modifying my water pump and when he can get that done, the radiator will go in and we can run it a bit more before we tear it all out, clean things up, and stuff some new goodies on this old shark.
So far it has been a LOT of work. I am glad I did the "internship" so I had some idea of what I was in for. It ain't like Overhaulin where it gets done in an hour. But it has also been a lot of fun along the way. Here is a video my wife is not so proud of: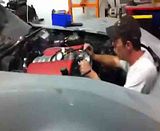 Hopefully more to come soon
*****
EDIT: Fixed broken links.