Discussion Starter
•
#61
•
I got to work on my car again yesterday. Things came together pretty well. I could not get the sandblaster to work, so I took the nozzle off and found this:
How does a beatle manage to get inside the sand blast cabinet and then climb inside the nozzle? That had to hurt.
I got my pedals in the mail yesterday. I needed them to change over from the auto to the six speed. I found the whole pack on eBay for $80 shipped. I thought that was a heck of a deal. They are in great shape really, but I think I will tear them down and powdercoat them anyway.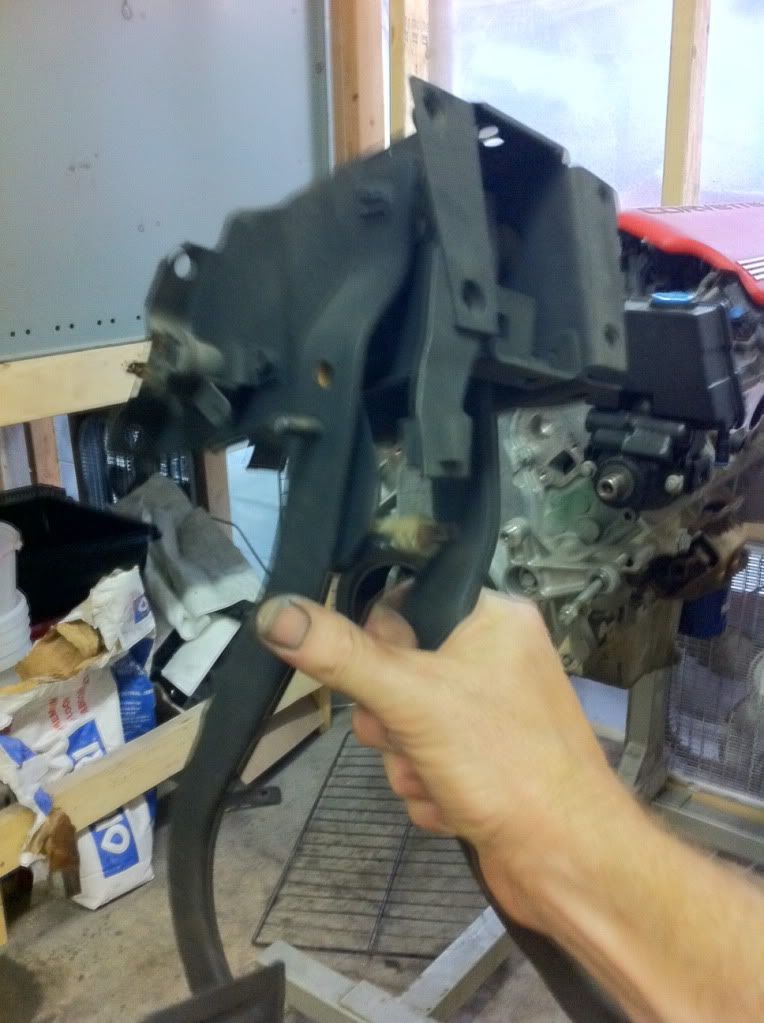 I was really worried about getting the rack an pinion in because of the motor-mount perches on my frame. The main support felt like it was not even close to fitting when I tried to stick it in. I made a cardboard mock up of it and was surprised to find that I only had to grind about 1/8" off of the left corner and then bend the flange on the right side few degrees and it bolted right up. *whew*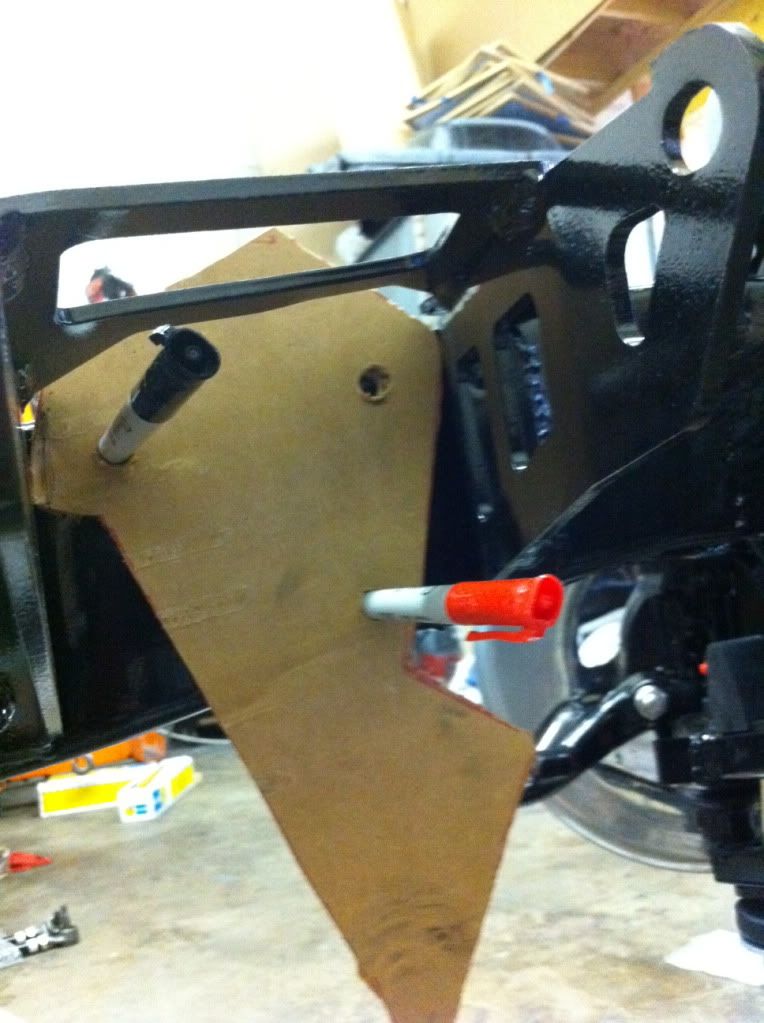 Here is another shot of the rack install. Yea, that is the Mistress in the background wondering why nobody gives her any love. Someday, hopefully soon, that car is going to be amazing.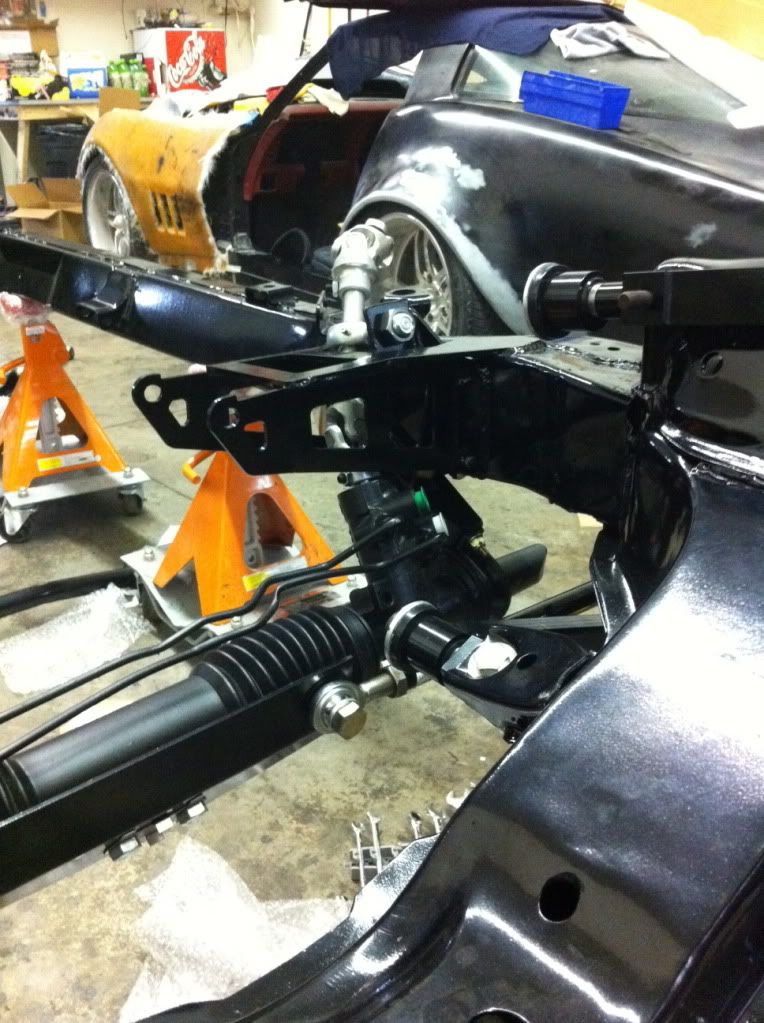 Josh was busy sanding on Kaoss yesterday but he could tell I was stuck and came over and showed me how to pack the front bearings so I could put on the brakes. I think he thought I just wanted to see the new calipers hung on the rotors, but actually .. well okay.. he was right.
So the front is pretty much together!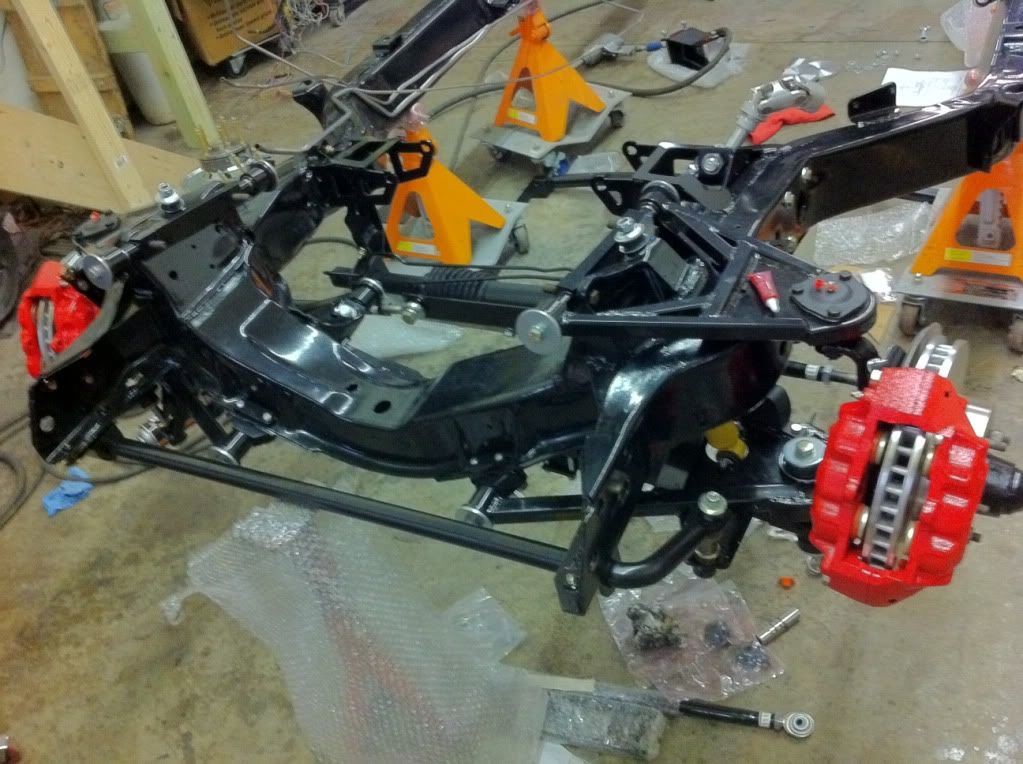 I should be getting a package from Summit tomorrow with the hydraulic throw out bearing and hopefully the rear end will be back very soon too.
The plan was to have this car pretty well built up before I went on vacation and then Josh and I would blitz it to the end during my time off work. I didn't really get started on it until a few days into my vacation. My plan of driving it this fall is pretty much gone, though. Originally I thought it would be all done. Then I thought it would be together, but not painted. That would have been okay since I could have driven it and then let myself and my budget recover until next spring. Now I don't know where I am at. It is kind of depressing, but yet I looked at the frame and the hardware on it last night and know that everything on it is new or rebuilt and powder coated. Way better then when it was a new car. I never thought I would own something like that, much less be able to build it. So hopefully it will all work out. I don't think I will be driving this beast until next year, but it will be worth it in the end.
Well back to the shop........