Discussion Starter
·
#1
·
Punisher I didn't want to further hi-jack your thread so I started my own.
Background:
I went from stock engine and stock Ti exhaust to stock engine and Borla Stingers to H/C engine and Borla Stingers. FYI, along with the H/C package I also added LT's with catted x-pipe.
About a year after that, I took off the Stingers and went back again to stock Ti exhaust. All else stayed the same. Why???? :crazy:
While I loved the deep muscular tone of the Stingers, I really grew tired of the annoying drone between 17-1900 rpm. So I put the Ti's back on. Things were great it was nice to hear again while cruising. Also, it made my car seem more "classy" and I actually enjoyed driving around with a passenger. but over time I also grew tired of things being so reserved.
That brings me to the e-bay exhaust. I read lots of reviews and heard a sample so with prices quoted in the $475-$00 range I decided to take the plunge. One more thing, I did consider other exhaust systems but I really only liked the Borla sound.
Now for pictures.
Here's what the box looked like when it arrived with some other goodies.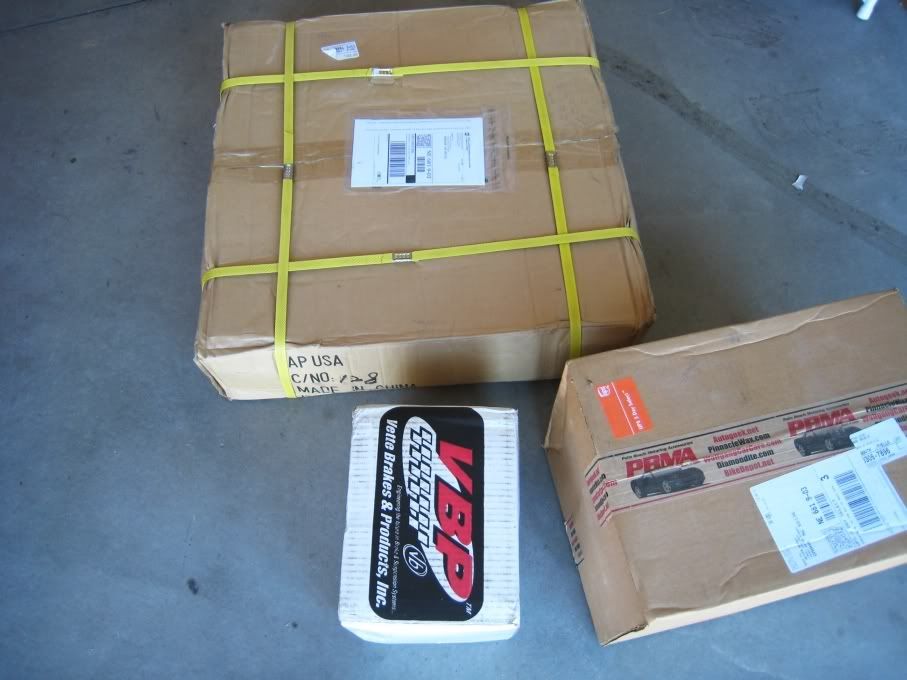 Things were very nicely packaged.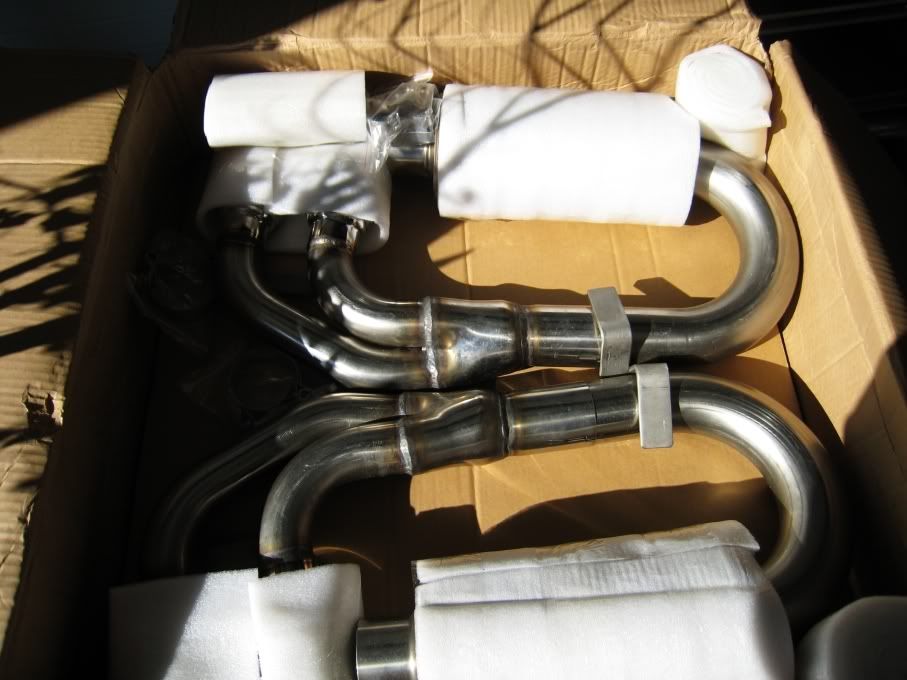 I don't have a lift -yet, so I went to the local performance shop to get the system put on. Here's the stock system coming off.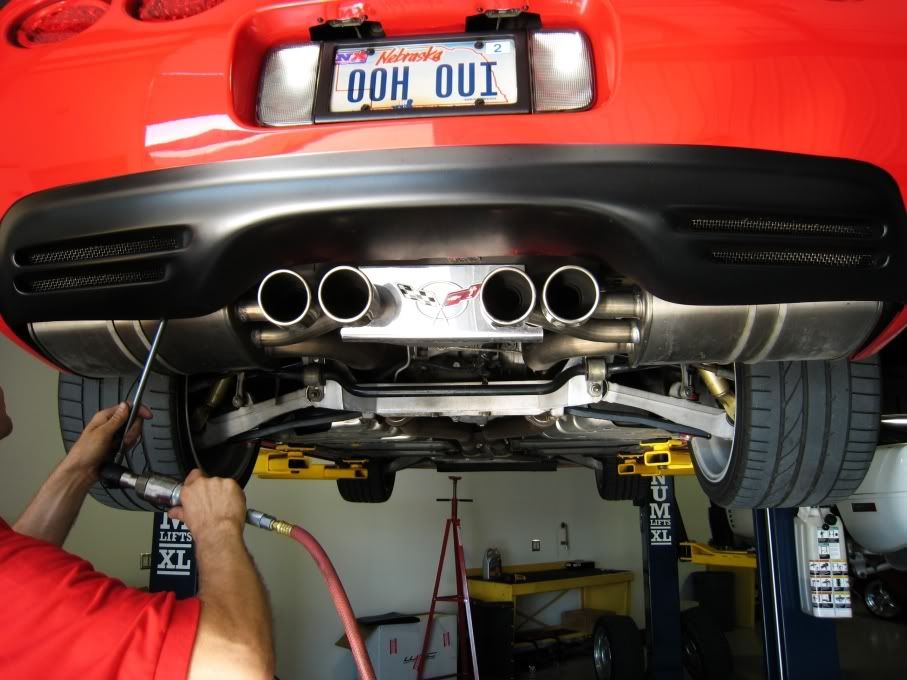 I'll skip the boring install and go straight to the money shots.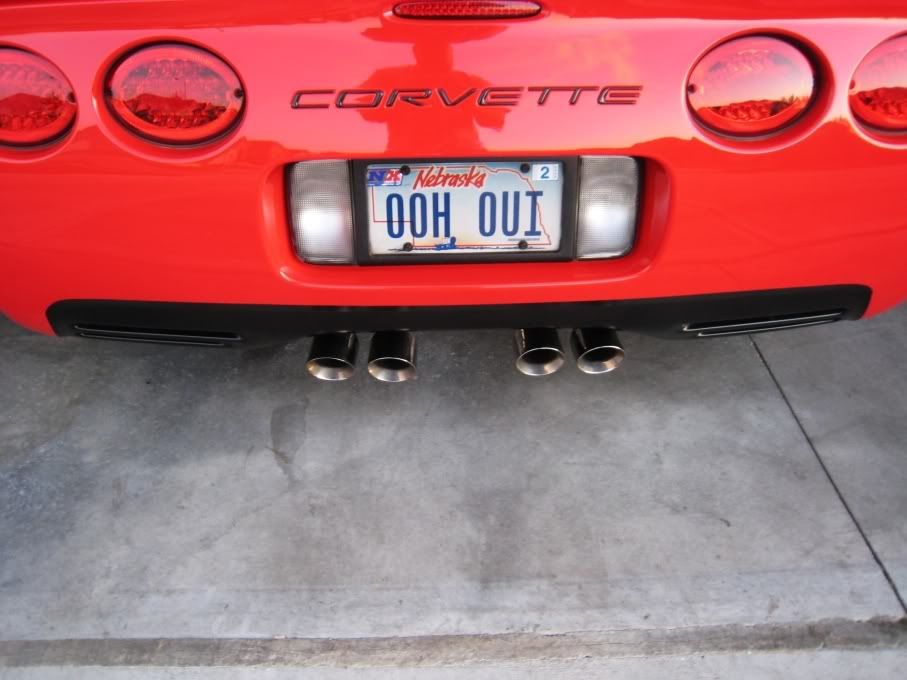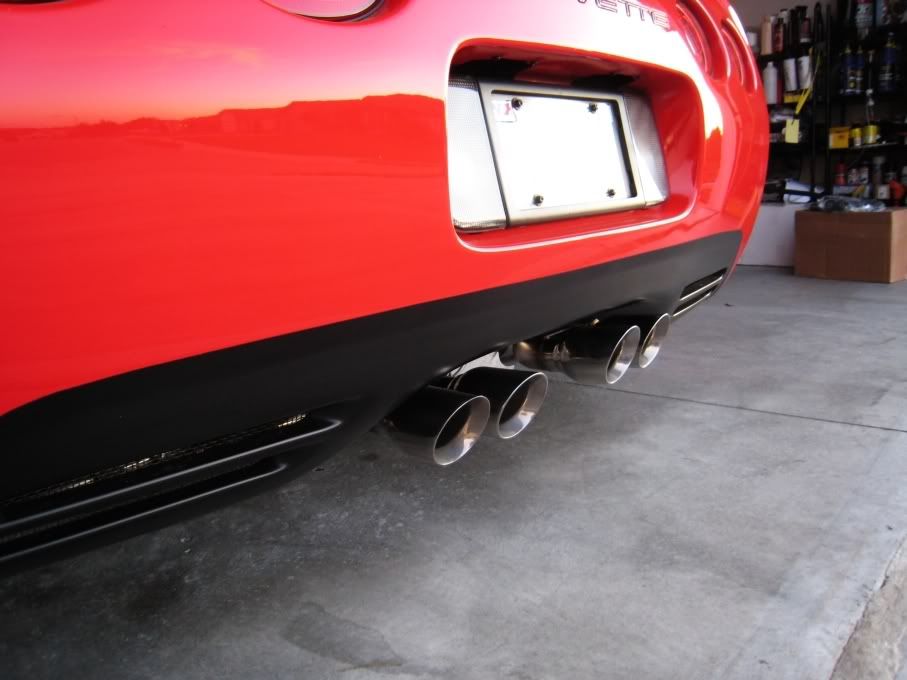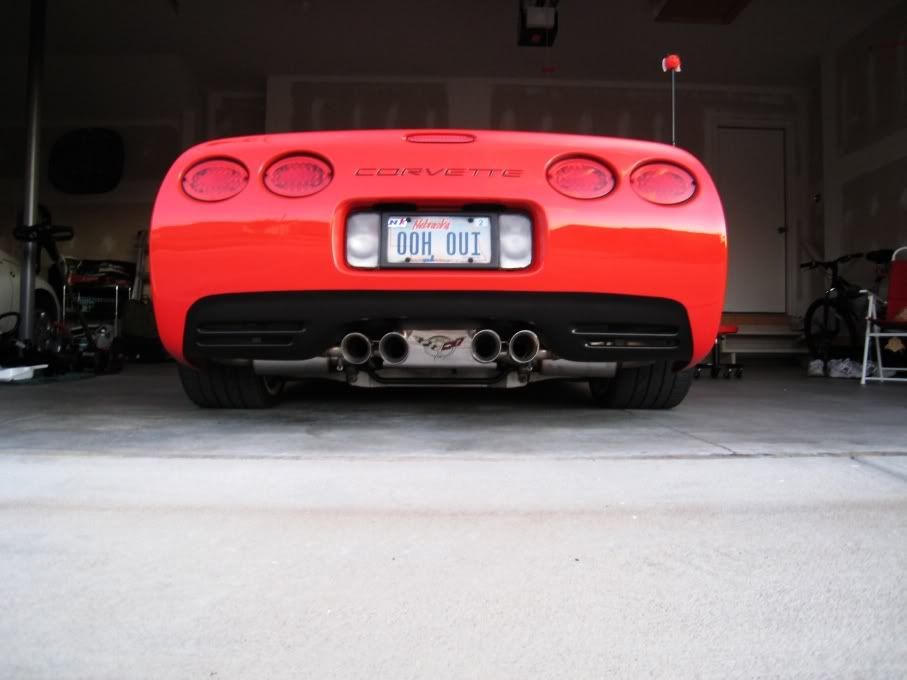 Here's a before shot for comparison.
Summary:
Quality
I found the finish and fit to be very nice; no better or worse than the stock system. It's made of 304 stainless steel and the welding looks first rate. Compared to the Stingers I had, I would say they were not nearly as highly polished but that doesn't bug me. Also, as Punisher mentioned, the clamps that come with the kit are not suitable for this install so I replaced them with heavy duty ones from Napa. Quality gaskets however are included. All in all, 8/10.
Performance
At first start up I was really pleased. The muscular sound had returned to my car. After a very long drive I can say that this is a very nice system. Great idle tone, quite cruise with ZERO drone in the cruise range. There is drone in the system but in my car it is only evident somewhere between 3400 and 3600 rpm. When accelerating you drive right through it but it is noticeable. Many have said these sound like Borla Stingers - they do not. The Stingers have a deeper tone. They are somewhat close but definitely not the same. To
my
ear they are better (in sound) than the Corsa, and the B&B exhaust systems that I have heard. I think the website mentions up to 12hp gains. Maybe so but honestly I didn't notice any power gain - or loss. So in this area I give them 9/10.
Value
I paid $850.00 for my Stingers (four tip) but apparently they have gone up since then and are closer to $1100.00 now. In fact similar exhaust systems now cost anywhere from $900- well over $1200. I paid $499.00 plus $50 for shipping for this system and an additional $30.00 for install which included spot welding. So in terms of value I give a solid 10/10.
In conclusion, I say this is a true bargain and a great alternative to the other systems out there for a price that gives the middle finger to the "Vette" tax.
-RR