Alright, so I decided to tear my interior out... again! I took it all out the winter of 2009-2010 when I did my engine, but I ended up basically just putting everything back. So, now its time to bring the interior up to the looks of the rest of the car.
I had a few ideas, but finally settled on a mildly custom look. I'm in the process of doing it now, and it shouldn't take too long. Ill have plenty of pics when I finish, but here's a little teaser for now:
On anoter note, I'm also in the midst of some serious exterior detailing. I bought a pricey kit from autogeek.net that includes polish enhancer, sealant, and a high end wax. Its a whole process that's new to me, but so far id highly recommend it. Basically you was the car, and clay bar as needed. Then you polish the carh to get the paint truly clean. Then you aply the sealant which provides a deep wet look but also a hard protective layer. The sealant has to cure for 12 hrs:surprised, and after that you can apply a few layers of wax to deepen the shine. I'm only at the sealant curing point, but it already looks great! Id definitely recommend this stuff... best of all the sealant protects up to 6 months! Here are a couple of quick cell shots: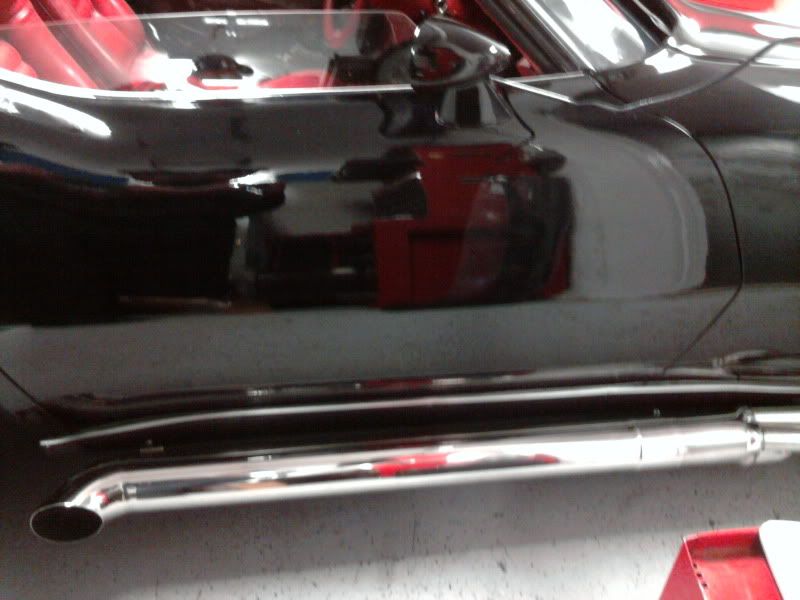 If you notice the sidepipes in the pictures, I got a new polish and sealant from a vendor at World of Wheels. The stuff is great, the pipes shine like they're chrome, and with some elbow grease it got the burns around the welds off that the XS power collectors are notorious for!
Stay tuned!