Discussion Starter
·
#1
·
getting your C-4 to run 11s
http://members.rogers.com/roguevette/
how do you install a 454-502 in a C-4
http://forum.grumpysperformance.com/viewtopic.php?f=32&t=151
http://forum.grumpysperformance.com/viewtopic.php?f=71&t=741
http://forum.grumpysperformance.com/viewtopic.php?f=69&t=9930
http://forum.grumpysperformance.com/viewtopic.php?f=52&t=82
if you put a bbc with aluminum heads, intake and water pump in , in place of the standard iron small block you only gain about 50-70 lbs, not enough differance to cause any problems at all, , I have worked on several of these swaps now and Im in the process of getting ready to do another one,heres whats needed
steering rack mounts cut and rewelded 3/4"-1" farther forward (that of course means the power steering pump lines/steering shaft, need to be extended 3/4" also)
small notch (starting at rear and going 3" forward from rear edge X 3/4"deep X 5" wide works well in rear top surface of (K) frame cross member to clear damper and pulley)(if you use an internally ballanced big block with the 6.75" dia. damper you can most likely skip the notch but with the 8" dia damper its necessary, and some oil pans will also require the back 1 1/2 of the (K) frame to be notched at an angle slopeing to the rear to clear them so youll probablly need the notch of some kind anyway)(and yes before you ask you could shim/modify the motor mounts up to get the clearance, but that would slightly raise the weight center and slightly effect the handleing, and that also makes the windshield motor and distributor clearance a bigger problem)
air conditioner shrouding fiber glass on pass side foot well around the air conditioning on the firewall needs to be modifyed for clearance, (the fiber glass cover from a LT5 makes this easy)(evaporator houseing cover)
1971 bbc vette exhaust manifolds (or custom headers) and all brakets/pulleys (mods needed here)
(see the post on building your own headers)
oil pan needs to be only 7.5" deep max
3" hood scoop unless you run a low rise intake and carb or a low height efi system
for a step by step instructions with pictures get a copy of the august 1998 vette magizine article( starts on page 34)it helped quite a bit the first time
otherwise its almost a drop in deal, but keep in mind that youll need a bigger radiator, the trans will not last to long with that amount of torque and it may not pass emission testing and a small size starter is needed, and your windshield wiper motor needs to be replaced with a much smaller one,(I don,t remember where we got them but alittle measureing and a trip to the salvage yard took care of that problem, and no tall valve covers don,t work well!
btw install the short block then add the heads with it in the car its FAR EASIER THAT WAY than trying to install the long block
BTW the earlier cars like the 1984-86 (Im not sure what years exactly)dont have the heavier forward frame braceing above the stearing rack that makes this swap more difficult to do! I have worked on this swap on the 84, 85, and 86 cars so I know they work fine, the later cars like the 1992 with the heivier forward frame braces above the stearing rack look like they will be more dificult but still do-able with some extra work, btw theres a guy at ARIZONA SPEED AND MARINE that has one you might want to talk to .just a few points
an all aluminum bbc WEIGHS LESS THAN AN IRON SMALL BLOCK so the HANDLING IMPROVES
an aluminum head, intake and water pump bring a bbc engines weight to within 70 lbs of the stock iron small block, so handling is almost unchanged
any un-supercharged small block not useing nitrous or some other power adder that makes over 550 hp is highly likely to be at least somewhat unstreetable as a daily driver and your not likely to build a small block that makes "764 HP & 695 lb/ft at the flywheel" likely costs as much or more than a big block makeing similar power, look,
good engine choice
_______
heres a few pictures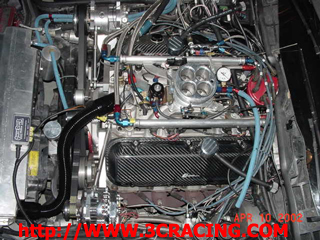 http://vettextc.jiminees.com/jeff/C4_BBC/
it will of course depend on the engine combo you chose , and traction is usually a problem but low 12 second to mid 11 seconds is not at all hard for the cars Ive worked on. now you could build a kick butt engine and get into the 10s with ease but at that hp level the rear suspension and rear end itself tends to need work! the strong point here is that unlike a high hp sbc engine with nitrous and a huge cam, these cars are relitively easy to drive as daily drivers and the passing power with just part throttle is necessary to feel to be believed. plus the viper guys get really upset when you pull next to them at 50mph and pull away like they have a dead cylinder with the better chevy bbc engine combos, but you really are better off with aluminum heads/water pump and intake. btw getting a kick butt bbc is very easy, and far cheaper than a viper engine. btw the 700r4 trans or the manual trans that comes in the corvettes won,t handle a 550hp plus engine for long, but the 4L80E OVERDRIVE automatic TRANSMISSION chevy installs in the larger trucks can be used (EXPENSIVE BUT THATS WHAT I BOUGHT FOR MY FUTURE SWAP)
http://www.ideasandsolutions.biz/Hoover/top.html
http://shop.theengineshop.com/dr/v2/ec_MAIN.Entry16?SP=10024&PN=29&xid=42186&V1=30014126&V2=30014126&V3=1&V5=11000185&V4=10&S1=&S2=&S3=&S4=&S5=&DSP=0&CUR=840&PGRP=0&CACHE_ID=0
keep in mind the cost versus performance ratio, a nice C-4 vette can be purchased for $6000-$20,000 add that $9000-$15,000 BBC drivetrain and youll have a car that kicks 99% of the cars on the roads butts (INCLUDEING MOST VIPERS) for about $16,000-$35,000
the rear ends hold up fairly well untill you use slicks, street tires won,t normally get enough traction to break things unless you use nitrous
both the 4 plus 3 manual and the 700r4 trans will work for awhile especially if your not trying 3000rpm launches all the time, the 700r4 trans can be built fairly tough but if your intent is to get 10 second 1/4 mile drag times then no! youll need to upgrade the trans to a 4L80E or TH400 with a serious big block or one of the sturdier manual transmissions
heres a few links
http://www.peachstatechevelles.com/muncieid.html
http://www.4speeds.com/muncie2.htm
http://www.yearone.com/updatedsinglepages/Id_info/muncie.htm
http://www.5speeds.com/kit.htm
http://www.drivetrain.com/saginaw3_4sp.html
http://members.rogers.com/mlvd/muncie_rebuild.htm
http://www.gm.com/automotive/gmpowertrain/transmissions/hydra/apps/4l80.htm
if your really looking for 600hp and you have a lot of spare change , drop in one of these 540-632 displacement engines, and run mid 10s with some suspension/tires and tuneing and a few mods like moving the battery to the trunk area and swapping to a light weight set of seats , adding a roll cage,ETC.
http://www.sallee-chevrolet.com/Sneak/Previews.html
http://www.theengineshop.com/engine6.shtml
http://www.theengineshop.com/engine3.shtml
http://www.diabolicalperformance.com/diabolical540.html
http://www.sallee-chevrolet.com/Sneak/Previews.html
almost anything can be done with a little care and thought!
now something like that under the hood with a set of this injection would look neat