I know you want to keep the stock hood, but I am doing something similar. I am using the Accel EFI intake with an elbow pointing backwards and an LSX throttle body. This way I can take advantage of the cowl hood Im putting on.
The LSX throttle bodies use the same TPS and IAC wiring as our L98 cars do, but they use a different connector. You can get early to late adapters from FAST ($10 ea.) or just splice the LSX plug onto the L98 wiring. It is also very tunable for our computers.
If you are going with a carb EFI intake and custom elbow you will gain much more if using a single blade LSX throttle body. For a mostly stock engine though I doubt you need much more than a stock throttle body. I got one with sensors (that work) off a wrecked LS1 Trans Am for $50. I will most likely port it but the stock size should be plenty of CFM for stock or mild engines. You need to get a throttle body from an LS1 Camaro, Trans Am, or GTO because they are sill cable driven. Only difference is the throttle cable goes on the pass side instead of the driver.
This is the intake Im going to use: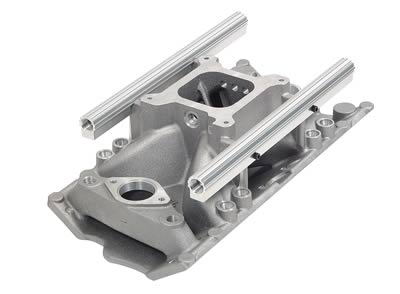 It comes with fuel rails and uses the same injectors that the L98 does. Only $500. Like me all you would need is to make your own elbow, some connectors, and a LS1 TB. If you make your own elbow you can make it fit under the hood, or have the intake elbow people make one to your dimensions.
Im still gathering parts but I plan to have the new engine in by spring.