This is a picture by picture crash course in lowering the front of your C5 yourself. These steps are necessary to cut the front bushings or to remove the lowering bolt all together.
-Note- before hand you will need to make some ramps that are at least 3" tall so that you can remove your jack from under your car once it is lowered.
The first two pics show what the suspension looks like before anything is done.
At this point I jacked up the suspension so that I could unbolt and disconnect the upper a-arm
This pic shows after the a-arm has been disconnected and the suspension has been lowered down again.
Then unbolt the lower part of the shocks (2 bolts) and you will need a deep socket wrench to reach the bottom of each of the bolts.
Then disconnect the sway bar (next 2 pics)
Loosen the top part of the sway bar bolts to swing the bolt out of the bottom part (next 2 pics)
Finally now you can remove the lowering bolt or raise it to its highest point to cut the bushings. It has a reverse style thread pattern, so to lower the car rotate it counterclockwise. (Note to remove the bolt you may have to jack up the leaf spring to gain clearance)
(Be careful not to damage the leaf spring by using a small piece of wood to protect it)
When putting everything back together, reverse the pattern that was used to take it apart. To reconnect the top A-arm use an allen wrench when tightening the bolt to keep it from just spinning.
Optional for removing the shock absorber totally
If you can do the front, the rear is so easy I won't even have to explain it. (I also forgot to take pics
) I did mine with some longer bolts than stock to get a 2.5-3" drop in the rear.
lowered pics
Bigger
Here
***New*** Lowered With bolts in front completely removed.....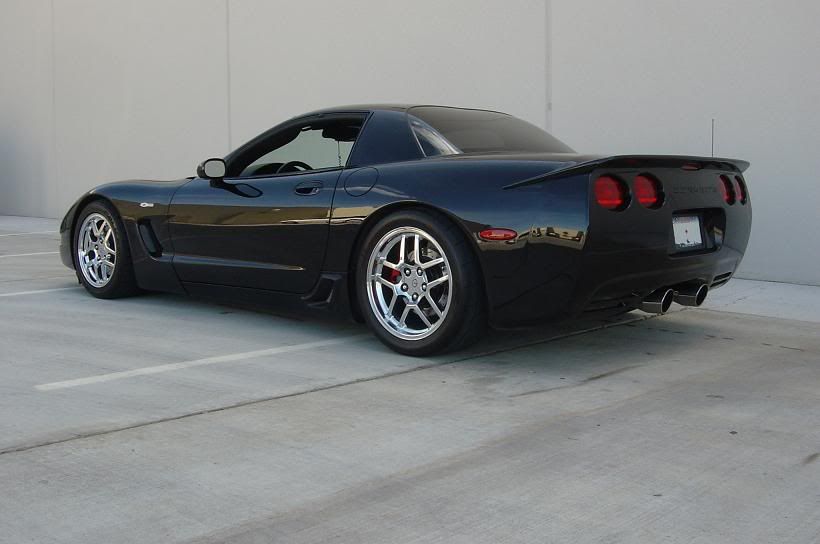 ***Newer*** New I-Forged wheels. I didn't have to make one adjustment to the suspension. In Fact I found out that even though the new wheels are 18/19's where the stock were 17/18's, that the new wheels are the same height as the stock wheels. This is due to lower profile tires in both the front and rear of the car.