Discussion Starter
·
#1
·
Had one of those funny moments today where I did something without any conscience thought process. The idea never
actually
formed, nor was there a plan of attack.... but I found myself sitting in the '85 and before I knew it, all my wood dash pieces were pealed out and sitting on the passenger's seat.
:crazy:
It
was
in fantastic condition, no discolorations or chips. It had its own "classy appeal" but in hindsight it tended to distract my eyes by breaking up the color symmetry of the interior. This is what it looked like: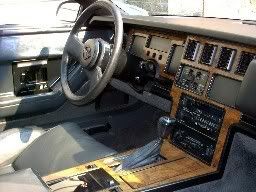 Spent about 30 mins with a rag and some Goo-Gone to work the glue off the center console. It does a great job, but it is a
sloooow
process as the 20+ year old glue is in no rush to get lost. To my surprise the original console pieces are in tremendous condition.
I still have quite a bit to do (around the gauge cluster and diagnostic center) but it'll look like new when I'm finished. Ya know, I was suppose to be finishing another project while I was out there... doh!
Added:
*TIP from Sheriffd2
Dave says the 3M Adhesive Remover kicks major tail! It's a bit stronger than the GooGone that I've been using but I'm going to give it a try. Since the plastic I'm using can stand up to a stronger glue-remover the 3M may help ease this process.

I've already noted to take precautions around the dash displays, don't want to get any chemicals on those babies.