Discussion Starter
·
#1
·
I had a little good news at Coreys also that was nice. Some of you guys know that I've top end ported my plenum and I/H a little over a year ago but still wasn't sure how much difference it made. It seemed like it but wasn't sure how much. The Dyno will tell the truth. But I wasn't going to get it dynoed until I had headers hi flow bullet cats and a 3" B&B with a Corey tune. But Robert talked me into it. He said dude don't you want to know if that 16 hours you spent porting made a difference? I said ok what the hell. Just a recap. 3 years ago on the same dyno with similar temps and humidity the first run produced 339rwhp at 335 ft tq. The second run produced 341 rwhp at 336 ft tq. That was 3 years ago with no porting.
This time it produce 355.71 rwhp at 346.81 ft tq. Both runs were almost identical. The first thing outta my mouth was well I guess I did it right. Hahaha! Corey said that it was running lean and my tach is about 1000 rpm's off. But said get ride of the Borla. The way it necks down from 2.5 to 2.00 at the resonator and the mufflers is way to restrictive. He said if we put my jeal headers hi flow bullet cats on it with and X pipe and a 3" B&B and a tune he said It wouldn't suprise him at all if that thing made well over 400rwhp. Heres a decent pic of the dyno sheet with the before P/P run over the P/P run power curve.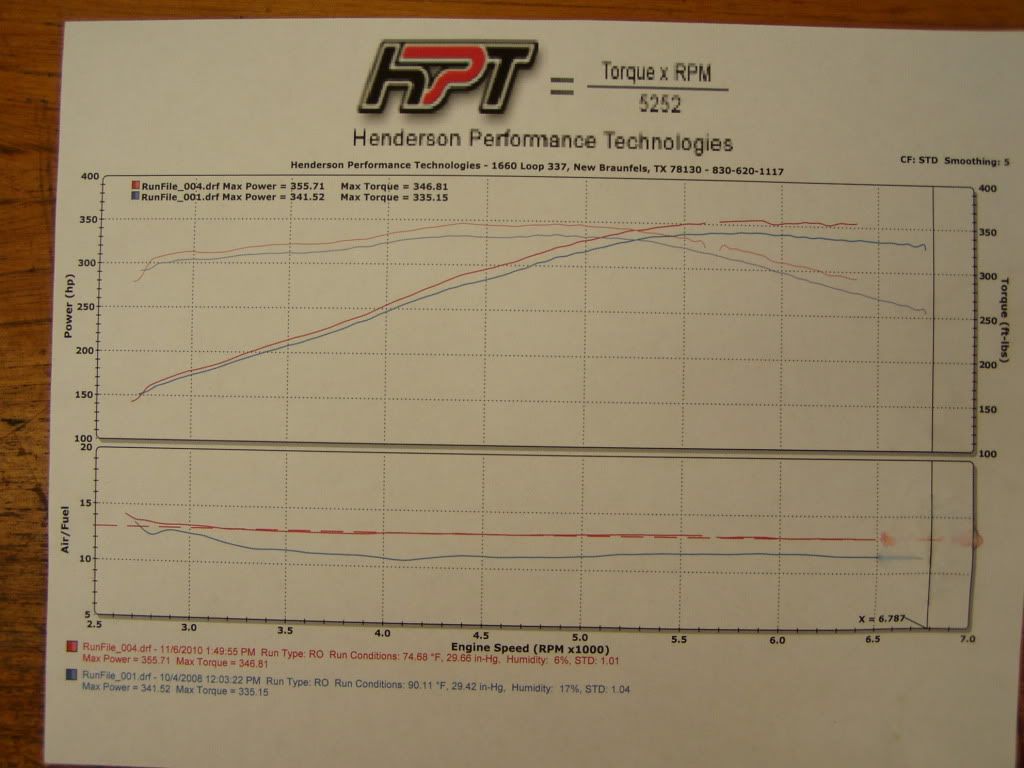 Just goes to show you that even with no exhaust mods that P/P still makes a difference.